Guest Blogger Day!  Friday's are reserved for me to introduce you to friends who are passionate about the gospel!  Today that passion means:  Move across the country, leave what is familiar and comfortable, pack up your family, and plant a church for Gospel Advancement!  Meet Matt Slack! Recently Matt planted an Acts 29 church in Sarasota Florida.  If you live in Sarasota and you are looking for a home church, I hope you will check out Bridgeway Sarasota THIS SUNDAY!  Click on the picture above to learn more about Bridgeway Sarasota.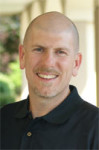 Two months ago, my family and I loaded up all of our belongings and moved from Corning, New York to Sarasota, Florida. We left good friends, a beautiful city and the church family that I co-pastored for 5 years. We had a good life in Corning. We were settled, secure and, dare I say, comfortable. So why in the world would we leave?  We moved to plant a church.
A FIRM FOUNDATION
As we get things started at Bridgeway Sarasota it is vitally important that we build on a solid foundation. That foundation is the gospel of Jesus Christ. 
Our vision is to be a church centered on Jesus that declares and demonstrates the gospel of grace for the glory of God and the good of our city.
The good news of Jesus' life, death and resurrection changes everything. When we believe in Jesus and repent, something amazing happens — we are changed forever by the power of God.  Jesus changes our DNA and completely reorients our lives to live for Him. Through the gospel we are reconciled to God; we receive a new identity in Christ; we are adopted as sons and daughters into the family of God; and we become ministers of the same message of reconciliation that saved us (2 Cor. 5:17-18).
THE GOSPEL CALL TO MAKE DISCIPLES
Our main task as a church is to multiply and mature. Our lives are to be submitted to Jesus and to each other as we learn to live in light of our new identity in Christ. In 2 Corinthians 5, Paul says he "no longer regards anyone according to the flesh". This is the effect of the gospel. For Paul, there are no more groups, cultures, races, socioeconomic classes or any other dividing lines. Every person is either in Christ or needs Christ. And they all need the gospel.
JESUS SAVES
The Gospel is for the sinner. The lost and the bound are the ones who need to be found and freed. "The gospel is the power of God for salvation to everyone who believes," (Rom. 1:16) and God has made us His messenger of this good news. The lost need the gospel.
JESUS SANCTIFIES
The Gospel is for the saved. We never stop needing Jesus. He has set us apart as His own for holiness and good works. Even though sin remains, Jesus continues to transform every area of our lives as we walk together in repentance and reliance on the Him. The saved need the gospel!
JESUS SENDS
The Gospel calls us to go. Because of the power of the gospel in our lives we now have "the ministry of reconciliation". This is who we are. This is what the gospel has made us. Saved, sanctified, recreated images of God sent to point the blind to the glorious good news of Jesus Christ. The sent go with the gospel.
IT'S ALL ABOUT JESUS
The gospel glorifies Jesus. Church planting is not just about making another place for Christians to gather. Church planting is about mobilizing Christians to scatter. It is about boldly trusting the power of the gospel to empower the saint and save the sinner.
One day soon, whether they know Him or not, all people will bow down and every tongue will confess that Jesus is Lord. As we eagerly anticipate that day, our mission is to fill the earth with the hope of the gospel and call people to worship Jesus now. We will worship Jesus forever because of the gospel!
If you live in the Sarasota area:
Check out Bridgeway Sarasota here.

You can contact Matt here:  matt@bridgewaysarasota.com
Tell your friends about Bridgeway Sarasota by sharing the links below.
Coming Monday:  A great book recommendation for just $2.99.  Subscribe to this blog via email (upper right corner so you do not miss out on a single post.)