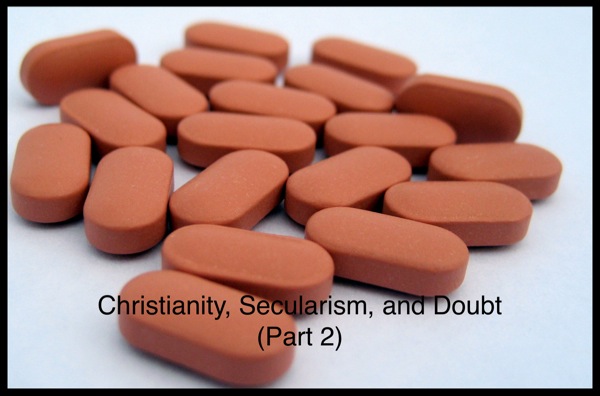 So, you have been sick.  Your sickness has been going on for quite some time now.  You continue to "deal with it" hoping it all goes away.  Well, it hasn't  and it has finally brought you to that point.  You break down and go see the Doctor.  You know it's bad when YOU go to the doctor!  As a Christian, you take God at His Word and you believe God can heal you.  You ask others to join with you and pray.  And….. people do pray!
The dr. runs some tests, orders up blood labs, prescribes some meds, and tells you he will see you in a few weeks as a follow up to discuss it all.  In the mean time you start to take the meds, pray, and try to live your life without being overwhelmed in fear…. what if….?
Well the day has come and you return to the dr. a few weeks later.  He informs you of some good news and bad news.  Your heart sinks.  You ask:  "What is the bad news?"  His reply:  "The bad news is that we were unable to get a diagnosis as to what is going on."  Gulp, "ok, what is the good news?"  "The good news is your looking better..!"
You then explain that you have been taking your medicine and being more careful to not drink 10 cups of coffee a day, you swore of McDonalds….forever, and you are now eating healthier than you ever have.  You go home and life returns to normal with no further incident.
Now here is the big question:
What happened?  Why do you feel better?
Is it less coffee?  No Big Macs? Healthier foods? Meds?  Better sleep?  Or, you start to think: "maybe I wasn't feeling as bad as I thought I was…. or maybe it was just a bad meal one night….. or maybe….. God healed you.
I don't find, in our day, and in our country, (USA) many Christians answering with: God.  We look to other things first, natural explanations, something more: shall we say….. rational. There has to be an explanation! And here is the challenge:  natural explanations abound in our day.  (By the way, I believe even the natural explanations can be a means of God's grace in answering prayer.  See the Philippian jailer below…)
Mom's, imagine a day (not that terribly long ago) when giving birth to a child was regularly met with death.  Death of the child or death of the mother!  Do you think that might have affected a moms dependance on God in prayer?  How about dad?  Do you think dads cried out to God with a different sort of urgency in days gone by?
Natural answers lead to less dependance which brings less prayer.
1.) Often I am tempted to not pray today because I don't believe I NEED God.  I am more dependent on the "stuff" around me than God Himself!  We have all the modern technologies here in America to answer our bidding and solve our dilemmas.
2.) The Result:  we often do not thank God as we ought because there is always something out there that is a reasonable answer to why we are feeling better, got the job, aced the test and on and on it goes.
When we do this we eliminate God from the equation.  And isn't that secularism?  Sure it is.  Whenever we marginalize God and when we answer the question with medicines or technologies, or……  we have entered the slippery slope of "Thomas Jefferson secularism".  (quick note:  Once Again, hear me…..  I am NOT saying God does not sovereignly use modern medicines, technologies, dr.'s, etc…He does!)
If you live in America, answering the question with medicines and technologies is very easy to do.  We have answers to every ailment.  Technology and dr's, and medicines abound!
And while I am grateful for all the modern advancements!!!!  (I am personally alive because of God's grace in those advancements.)  Those advancements can create doubt.  We hunt for a reason, some other explanation other than… God answered prayer.
In closing, consider the conversion of the Philippean Jailer.  Read the below and ask yourself, how many details to this story could I use to explain away the hand of God answering prayer?  How did Paul and Silas respond?
The Philippian Jailer Converted

About midnight Paul and Silas were praying and singing hymns to God, and the prisoners were listening to them, and suddenly there was a great earthquake, so that the foundations of the prison were shaken. And immediately all the doors were opened, and everyone's bonds were unfastened. When the jailer woke and saw that the prison doors were open, he drew his sword and was about to kill himself, supposing that the prisoners had escaped. (Acts 16:25-27 ESV)
Have you read:  Christianity, Secularism, and Doubt (Part 1)?