Pictured above is the Paris – "Love Bridge".  While I have walked this bridge with my wife, we never "locked" in our love.  The bridge is actually called the Pont des Arts.  Pictures do not do it justice! The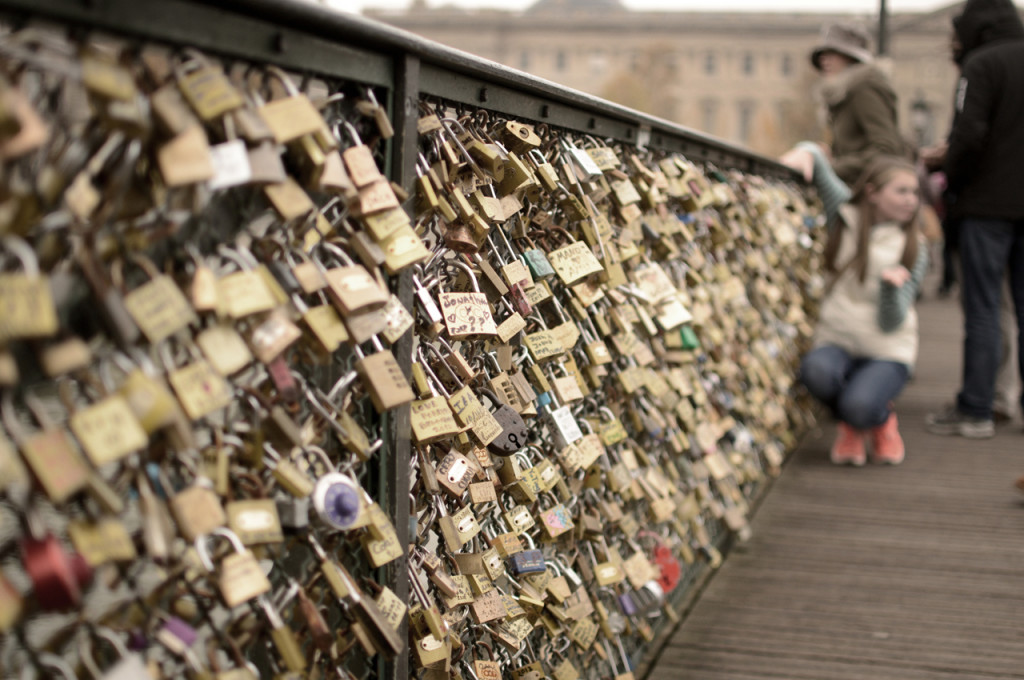 bridge is famous due to the endless padlocks placed there by lovers. Lock in your love and then throw the keys into the Seine river.  Romantic right?  And, in Paris no less!
The problem is that the guardrail of the bridge was not designed to hold all that extra weight.  The government and local Parisians have been asking tourists to stop locking in their love.  It is ruining their bridge!  The "Love Bridge" is collapsing under the weight of…. "Love".
Recently, my Facebook feed has been filled with wedding and anniversary announcements. The young and old; husband and wives are celebrating marriage – celebrating love.  This leads me to ask: What is love?
I went to high school in the 80's; graduating in 1986.  And, if you did too, you know where I am headed with this.  Who could forget the song by Foreigner:  I Want To Know What Love Is….
I wanna know what love is
I want you to show me
I wanna feel what love is
I know you can show me
Wow! I have tried countless times to forget that song!!  Sorry Foreigner fans, I despise that song.  If you are too young to remember it, do yourself a favor and DO NOT google it.  While it is a nice sentiment ("I wanna know what love is….") It's an awful song…. None the less, let's run with the question….
What is love?
Culture's answers to the question:
If love is anything, love is a feeling, says our culture.  Love is that warm, tingly feeling one gets when that special person walks in the room.  And while, I am glad for "feeling" love for my wife, and I am told by her, vice versa….  what do we do when that warm and fuzzy "feeling" is gone?
Feelings are fickle!
Have you noticed how your feelings come and go?  Have you "felt" warm and fuzzy one day and distant the next?  Sure, if we are honest, we all have!  How many times have I sat with a couple and heard one of them say, "I don't love him / her anymore."  Love seems to have left the building.  What that person is typically describing is that he or she no longer "feels" love like he or she once did.  Rob Green, in his excellent book, "Tying The Knot," speaks to this "feeling" culture we live in.
"Some, in the absence of feelings, decide that they need to find their true soul mate elsewhere.  The concern here is in the number of unhappy, unwanted, and unbroken marriages that exist because love, at least in the couples' mind, is simply a feeling."  Rob Green
Not Married Yet?  Order Rob's book here:  "Tying the Knot" 
If we define love based on our feelings, we are all headed to plummet over the falls of Niagara!  Failure and frustration lies ahead, if you are not already there.
Love Is Physical Attraction
Don't hear what I am not saying.  Physical attraction is a gift to a marriage.  But, if we build the relationship solely on physical attraction I am afraid, that once again, we are headed for a doomed relationship.  Have you lived long enough to know that beauty is fleeting?  If you are putting all your eggs in the basket of your beauty, it won't last.  Ladies, if that is the only means by which you attracted your husband, what do you have when the inevitable day comes and physical beauty fails you?  Guys, if this is the end all, what are you saying to your wife and your future? If your attraction to your spouse is built on culture's definition of beauty (handsome or pretty), you will find yourself hopeless someday.
We live in a culture where physical beauty has taken on a god like status.  Is it any wonder that our culture is divorce heavy?  Or that pornography is rampant?  If appearance is your god, then….  But, feelings and beauty will fail you.  Actually, if your relationship is built on little more than feelings and beauty, you might want to take a step back and examine how much of your love is a love of self.
Kim and I celebrated 26 years of marriage this past June!  I love my wife!  We did not have a category or a thought about 26 years on that day when we said: "I do".  26 years!  Based on cultures love definitions, I have given my wife many reasons to bail on love.  What keeps couples together for the long haul?  What happens to the marriage when it goes through significant suffering of health, finances, or  fading outward beauty? (It is called, aging).  I guess for some, they look for their "soul mate", or they go in search of "that feeling".  For others, they despair and remain unhappily married.  Friend, there is another answer.  Remain married and madly in love for the glory of God.  Stick to your vows: For better or for worse, for richer or for power, in sickness and in health, until death do us part.
So, do you want to know what love is?
Love is patient and kind; love does not envy or boast; it is not arrogant or rude. It does not insist on its own way; it is not irritable or resentful; it does not rejoice at wrongdoing, but rejoices with the truth. Love bears all things, believes all things, hopes all things, endures all things. Love never ends. As for prophecies, they will pass away; as for tongues, they will cease; as for knowledge, it will pass away. (1 Corinthians 13:4-8 ESV)