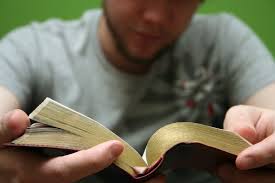 All Scripture is breathed out by God and profitable for teaching, for reproof, for correction, and for training in righteousness, that the man of God may be complete, equipped for every good work.

I charge you in the presence of God and of Christ Jesus, who is to judge the living and the dead, and by his appearing and his kingdom: preach the word; be ready in season and out of season; reprove, rebuke, and exhort, with complete patience and teaching. For the time is coming when people will not endure sound teaching, but having itching ears they will accumulate for themselves teachers to suit their own passions, and will turn away from listening to the truth and wander off into myths. (2 Timothy 3:16- 4:1-4 ESV)
I love the above scripture! The Apostle Paul writes, with great conviction, as he seeks to root Timothy and us in the Word of God.
God's Word = Authority:
1.) Because it is God's Word
This is our foundation, we must begin here. Do you believe God's Word IS… GOD'S Word? Paul tells us that it is a God breathed – God inspired Word. The Word is not our word. And since it is not our word, it (not us) has authority. Once we buy in to a Word that is not God's Word, pack it in. We are done! At that moment, there is no longer a p0int in considering the Word. In an instant the Word no longer carries meaning or conviction. At that point the Word has lost its power. It is just a Word that is no more inspired than the next book on the shelf. It may contain good advice or nice suggestions for living, but it is not the Word of God. And, once it becomes anything less than God's Word, it becomes nothing. It becomes nothing more than man's ideas and opinions. And those are a dime a dozen folks. But, the Words of the Creator and Savior… those are Words that have worth!
So, Paul says to Timothy, Preach the Word. And thus, the Word is what we preach. Not our opinions, but the Word. We would do well, and our churches would do well to stick to the Word.
To preach the Word is to recognize the Word of God is wisdom. Submission to the Word is what joyfully does. Why? Because it is God's Word! He is the Authority, not me and not you.
2.) Authority exists outside of us
I am so glad for this! I enjoy affirming that God's Word is God's Word. This rightly takes the authority out of my hands and places it where it belongs. It places it in the Sovereign, able, worthy, hands of God! I am a cruddy authority to my own soul. Why? Because, I want what I want – NOT what I need.
Paul to Timothy: teach what is sound. For the time is coming when people will not endure sound teaching, but having itching ears they will accumulate for themselves teachers to suit their own passions, and will turn away from listening to the truth.
Is it not amazing how similar Paul and Timothy's problems are to our problems today? Our culture does not want sound doctrine. We lust for trendy sermons filled with clichés and simple solutions to a profound problem all aimed to suit ones passions.
Personally, I do not need to hear a sermon preached to suit my passions! That is NOT what my soul needs! My soul needs my passions confronted rather than suited. The Word does not exist to suit my comforts and worldly desires. It exists for God glorifying transformation.
If my authority is what I want, then I am immediately off in a million directions. And tomorrow, I will likely have a new set of authoritative opinions of my creating. I am grateful for the Authority of God's Word. It is not fickle, it does not change, nor does it shift with my shifting opinions or the opinions of our culture.
This means, I do not have to guess if the Word changed while I slept last night. The Word is rooted in the very nature of God. The unchanging God gave us His unchanging Word, that I / we might be changed!
Jesus came, He lived a sinless life, died on the cross for my sins, rose from the grave, and He ascended to the right hand of the Father!
HIS Authoritative Word tells me to repent of my sins and to trust in Jesus for the forgiveness of sins. I joyfully have done so. I am forgiven! Sins paid for! It is finished! Christ settled it all on the cross, and none of that will change tomorrow!
That is HIS Word, not mine. This is the settled, unchanging, and authoritative, Words of God.
3.) The Authority of God reveals God
The Authority of Scripture reveals the character of God. Revealing His faithfulness, kindness, goodness, grace, mercy, sovereignty, trustworthiness, sufficiency, wisdom, power, truth, glory, and more!
The Word reveals God. As I said above, it is God's Word. God makes Himself known to us through His written Word.
This has implications for us as we seek to read His Word. The Word is first and foremost given to us to help us to know God.
How kind and good of God to give us His Word. Without it, I would be adrift to every passing fad of my sinful heart. The Word is an anchor to my soul.
We can open the Word and read it seeking to grow in our understanding of who God is and what He has accomplished on our behalf.
4.)  Authority informs response
Once we are convinced that the Word is God's Word, and that it exists to make God known to us, then we are postured to respond rightly to its authority. Our responses are varied. Have you read God's Word and responded in worship, humility, submission, conviction, repentance, faith, etc?
These and many others are the appropriate responses to the regular reading and preaching of God's Word.
The Word of God exists to reveal God and when He is revealed, His glory is on display and we get to respond to that glory
Thank you God for your authoritative Word to us! Thank you for preserving your Word throughout history and making yourself known to us through your Word. May you grant us grace as we seek you today through the reading of your Word!