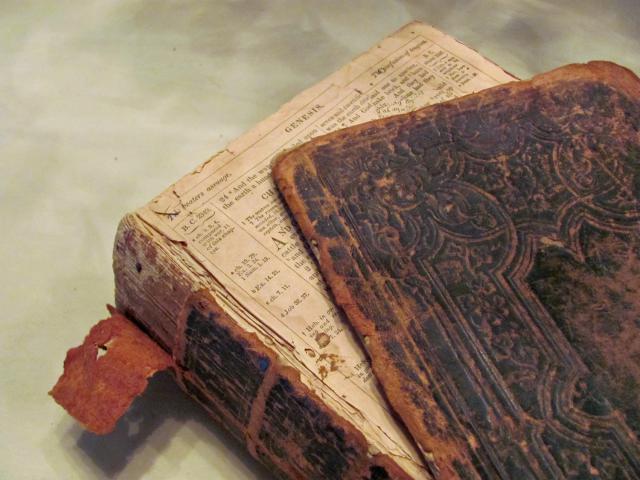 God's Word is…. well God's Word and because it is, we would do well to read it with a set of convictions. Below are 6 of those convictions. Certainly, there are more. Feel free to comment below on convictions you have when you are sitting down to read the very Words of God.
1.) It is GOD'S Word
All Scripture is breathed out by God and profitable for teaching, for reproof, for correction, and for training in righteousness, that the man of God may be complete, equipped for every good work. (2 Timothy 3:16-17 ESV)
Scripture is the God breathed out Word of God.
What does that matter?
Well, if this is our conviction it will affect how we approach or even if we will approach God's Word.
When this is our conviction we will approach God's Word not seeking to impose my thoughts and will on it. Rather, our desire is that the Word brings to us the thoughts and will of God for our lives.
If it is God's Words than it is my Authority! While my thoughts can tend to be shifty, God's Word remains. It is objective and unchanging! Shifty people need an anchor for the soul!
Consider: Without this initial conviction:
What do you have?
What is the Bible?
How does your view of the Bible affect how you read it?
2.) God's Word Is Understandable
The Word of God is not veiled. It does not need someone to come along and decipher the code! God intends us to "get it".  He is a revealing God.  He is not a code to be cracked – He is the God who reveals Himself on every page.  Through His Word He makes known to us, who He is and what He has done for fallen man.
3.) God's Word Is Useful
2 Timothy 3 (see above) shows us not only that the Word is God breathed, but that it is useful.
…….profitable for teaching, for reproof, for correction, and for training in righteousness, that the man of God may be complete, equipped for every good work.
4.) God's Word Is Effective
"For as the rain and the snow come down from heaven and do not return there but water the earth, making it bring forth and sprout, giving seed to the sower and bread to the eater, so shall my word be that goes out from my mouth; it shall not return to me empty, but it shall accomplish that which I purpose, and shall succeed in the thing for which I sent it. (Isaiah 55:10-11 ESV)
For the word of God is living and active, sharper than any two-edged sword, piercing to the division of soul and of spirit, of joints and of marrow, and discerning the thoughts and intentions of the heart. (Hebrews 4:12 ESV)
How effective is the Word of God!
5.) God's Word Should Be Approached In Humility
Am I the authority or is He?
Do I Submit to God's Word or Does the Word submit to me?
My life vs Gods Word – what must change?
Feelings vs Truth – subjective vs objective – fleeting vs never-changing
"I've heard the story of a man who was in Paris visiting the Louvre. He was particularly interested in seeing Leonardo Da Vinci's Mona Lisa. After examining the painting for some time with a critical eye, he announced, "I don't like it." The guard stationed there replied, "Sir, these paintings are no longer being judged. The viewers are." It is the same with God's Word, which is not what is being judged. Its readers are."

Bullmore, Mike (2011-08-02). The Gospel and Scripture: How to Read the Bible (The Gospel Coalition Booklets) (Kindle Locations 163-167). Crossway. Kindle Edition.
6.) God's Word Is About Christ
The entire Word of God is about God redeeming fallen man. That redemption comes through God the Son, Jesus Christ. As we read the Word with Christ in view, we will see that everything prior to Jesus death anticipates Christ's life, death, and resurrection. All that we read post Christ's death looks back to that event. God's Word is about…. Christ!
For further study check out this easy to read booklet:
The Gospel and Scripture:  How To Read The Bible By Mike Bullmore