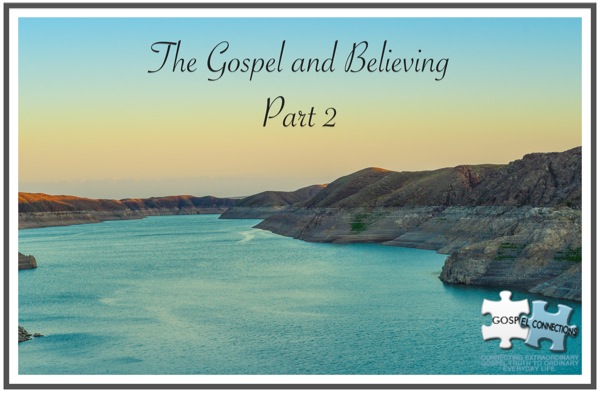 Jesus began His teaching by saying, "The time is fulfilled, and the kingdom of God is at hand; repent and believe in the gospel"  (Mark 1:15)
Read the post on Repentance by Brian Hedges: Here
Read the post on Believe: Here
To REPENT AND BELIEVE is what it means to be a follower of Christ.  The follower of Christ repents of his or her sins (meaning: we turn away from our sins) and believes (meaning: we turn to Jesus by trusting in Him and Him alone to save us from our sins and future judgement).
Let's dig into what it means to believe or to have faith in Jesus a little further.
You and I are sinners who need to be made "right" or "righteous" before God.  But…. How are sinners to be made "right"?  Many would say:  "That's easy, you live a moral life" or "You have to be good enough".   But, do you seriously want to stand before God and say; "ok God, judge me based on MY record of righteousness?"  or "Judge me based on how good I was?"
My record of righteousness is……. not righteous at all!  Try to imagine God judging you based on – YOUR RIGHTEOUSNESS!  What is the verdict from the Judge?!?
If I am hopeful that God will one day judge me to be righteous, He is going to have to do so based on the righteous record of someone else!  And friend,  that is where Jesus comes in, and that is why faith in Jesus is so important.  
When we put our faith in Jesus we are trusting in Him that He lived a perfect righteous life and, when He was crucified, His death paid the penalty that MY sins deserved!
Believing in Jesus IS trusting that Jesus takes my record of sinfulness on Himself and gives me His record of righteousness!!
Gospel Connection:  REPENTING of our sin and BELIEVING in Jesus to forgive us of our sin IS a Gospel Connection.  When we REPENT AND BELIEVE we are living in the good of the gospel.  It is possible to "know" some gospel facts.  We can "know" some things about Jesus.  But, does your trust in Jesus go beyond mere knowledge?  When you repent of your sins and believe in the gospel of Jesus Christ you are connecting extraordinary gospel truths to your everyday ordinary life!  Meaning Jesus came and lived a perfect life, died on the cross, rose from the dead….. SO THAT…. we can now repent and believe!  That is why the gospel is Good News!
You might be thinking:  "Does it matter that we connect our repentance and believing to the Gospel?"  YES!!  Here is Why:  If we repent and believe disconnected from the Gospel of Jesus Christ than all we are doing is making our repentance and faith to be a propped up moralism.  We make it to be one more "good thing" that WE are doing.  It becomes something that we are performing and when we do that….. the person we are truly believing in…… is ourselves!  Yikes!
Christ came, and lived, and died so we would not make that mistake.  Repent and Believe in Jesus.
Do you have 4 more minutes of coffee time?  If so, listen closely to the words of this song and live in the good of the gospel truths being sung!
One Last Thing:
Want a great book. Grab this one for your Kindle for only .99 cents!
If you have found this post useful:
1.  You can subscribe to Gospel Connections on the top right corner of this page.
2.  Share it by using the buttons below.