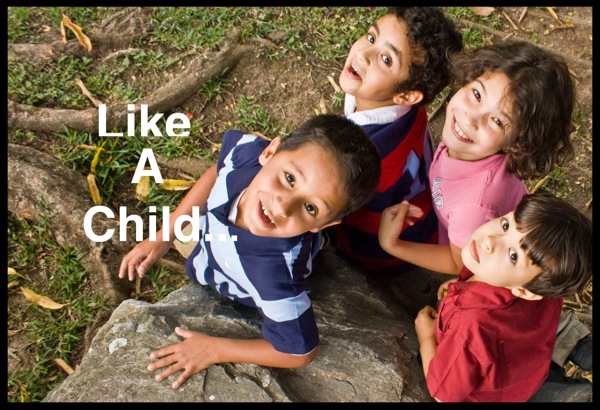 To pray to the Father…. is to admit we come as His children.  
Ok, so you are thinking….. "thanks Captain Obvious"!  YEP, that is pretty obvious!  But, just because it is obvious DOES NOT MEAN, we are living in the good of these truths.  So, let's consider a moment what Jesus is saying to us with these 2 words: "our Father".  Check out these posts titled:  2 Words and Our, we, us….
Jesus is saying we are His children!
We are adopted sons of God.
God, Himself is our Father!
Since God is our Father, this then informs HOW we pray
We pray to the Father like a child.
In his book A Praying Life, Paul Miller writes:
"What does it mean that you are a son or daughter of God?  You reply that it means have complete access to your heavenly Father through Jesus.  You have true intimacy, based not on how good you are but on the goodness of Jesus.  Not only that, Jesus is your brother.  You are a fellow heir with him."
What is prayer?
If we strip prayer down from all the "stuff" we make it to be.  You know, all the things we say about prayer that makes prayer…. legitimate in our eyes.  Things like: pray like this, consider this first, gotta pray first thing in the morning, read scripture then pray, pray then read scripture, pray at the end of the day, etc.  I am NOT saying any of these things are wrong in and of themselves.  I am saying, 
when we make prayer to be about the "stuff", maybe we have missed the obvious.  Prayer is what we do because we are in a relationship with God.
Prayer is a son or daughter coming to THE FATHER!
It is really just that simple.  But we don't like simple!  Especially when it comes to prayer.
So, I say: enough of these nice, polished, well formed, gotta get all my wording right, be theological, and eloquent prayers.  Enough of this thinking: I need to get myself all put together…. BEFORE I start to pray.  STOP IT!  Jesus invites us to come to God as His children.  Children do not come to their parents all put together.  Children come to their parents out of relationship!  I can not imagine my 9 year old coming to me all put together and eloquent!  No, he comes to me out of a relationship.  His requests are based on that relationship.  He has faith in our relationship.  AND, what kind of parent would expect their child to have their requests all worded right and put together?  Why do we think that is what God expects.  What kind of weird relationship have we made this to be?
Think about HOW a child approaches mom and dad.
They are spontaneous, persistent, relational, bold, immature, needy, weak, not put together….  and much more!  All a child knows is:  You are my dad or mom, I am your child, this gives me the right to ask you _________ .  I don't ask that guy over there for ___________  because he is a stranger and I don't know him.  But you…. I know.  You are my dad / mom – I am asking you!
Romans 8:16-17a

The Spirit himself bears witness with our spirit that we are children of God, and if children, then heirs—heirs of God and fellow heirs with Christ…


ALL of this, EVERY bit of it, is provided to us in the gospel….. Jesus came and lived, died and rose from the dead so that we might be brought into a relationship with Him!  When we pray to the Father, like the children we are, we are living in the good of the gospel!