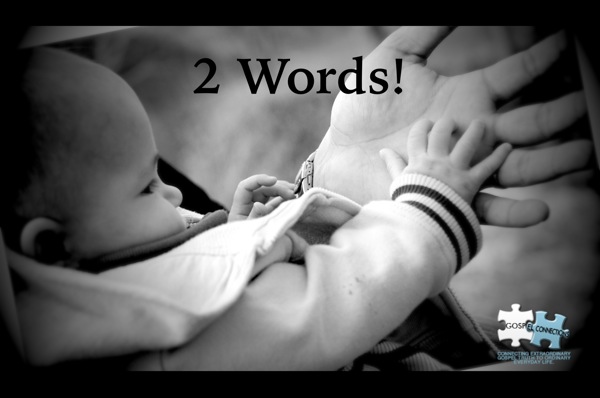 Let me ask you…..   When Jesus says:  "pray then like this:  Our Father in heaven"  Matthew 6:9.
What does that mean that Jesus tells us to pray to the Father?
Does this truth that we are praying to the Father have any everyday, real life significance?
Does praying to "our Father" affect our faith when we pray?
When was the last time you thought about the amazingness of these 2 words:  "our Father"?
I could go on with the questions, but I think you get the point.  It seems like "Our Father" is just a given these days.  Something that we throw in perhaps at the start of a prayer.  Maybe it is something that we Christians take for granted.  But, think about it….. there are astounding truths wrapped up in those 2 words.  "Our Father"!
Question:  Do you know what makes these 2 words possible?  Answer:  Nothing makes this possible except the mercy and grace of God.
To Pray to the Father = Gospel
The very words "our Father" are gospel words.  Here is how Paul put's it in Romans 8:12
12 So then, brothers, we are debtors, not to the flesh, to live according to the flesh. 13 For if you live according to the flesh you will die, but if by the Spirit you put to death the deeds of the body, you will live. 14 For all who are led by the Spirit of God are sons of God. 15 For you did not receive the spirit of slavery to fall back into fear, but you have received the Spirit of adoption as sons, by whom we cry, "Abba! Father!"
 Paul is bringing to us gospel truths.  Here is a brief summary of the above verses:
We are not debtors to the flesh
We are led by the Spirit of God
We are sons (and daughters) of God
We are not slaves to the flesh.
We  have received the Spirit of adoption.
We now cry Abba Father!
Matthew 6 and Romans 8 are amazing!  
Jesus is saying in Matthew 6:  This is HOW you pray…. "Our Father".  Paul in Romans 8 is not telling us HOW to pray.  He is giving us reasons  WHY we are able to call Him: "Father".
 If you are a
believer
, then you are no longer a slave to the flesh because Jesus died and has set you free!  He died, He sent His Spirit to live in us…..  we are not slaves.  Rather than being slaves…. we have been adopted!  
To be adopted is to have the Almighty, Infinite, All Powerful, loving, caring, God as…. Our Father!  When we pray to Him, we do so because of the gospel.
Did you catch the above paragraph?  Nothing less than the Father, Son, and the Holy Spirit are all at work to make possible these 2 words:  "Our Father"!  Don't believe me?  Read:  Romans 8 in its entirety to see the trinity at work.
You can pause and pray right now to the Father.  As you do so, consider all that Christ accomplished to bring you into relationship with God.  What Christ did was not a token, little, relationship.  NO, what Christ did has brought you into a relationship with the Almighty, Infinite God who is also…. YOUR Father!
Free Book Time!  Grab this classic by A.W. Tozer Today.