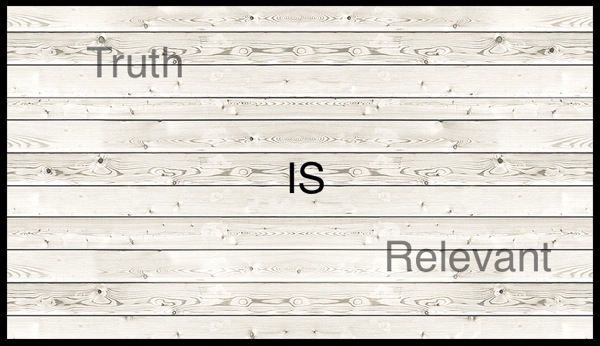 Isn't "The Cry For Relevance", by pastors and churches an effort to attract people to our churches?
And….. attracting people to our churches…. that is good, right?
But, in so doing, don't we have to be extremely careful about our motives?
If we are seeking to build "our" kingdom come, Rather than "HIS" Kingdom come…. then perhaps not. But if Jesus is the King and it is His Kingdom that we are seeking to build…. perhaps, yes!?!
Recently,  Michael Paulson of The New York Times asked Brian Houston, (founder of the very popular Hillsong movement) a very simple question:
"Can your pastors preside at same-sex marriages?"
Houston replied (in part), "It can be challenging for churches to stay relevant. Because many mainstream churches upheld what they would believe is the long established view of what the Bible says about homosexuality. But the world has changed around and about them."
He continued, "So the world's changing and we want to stay relevant as a church. So that's a vexing thing. You think, 'How do we not become a pariah?'"
Yikes, it was a "yes" or "no" question….
Well, those statements kinda blew up and so……before the week was out, Pastor Houston issued a follow-up statement saying, "Nowhere in my answer did I diminish biblical truth or suggest that I or Hillsong Church supported gay marriage…. My personal view on the subject of homosexuality would line up with most traditionally held Christian views. I believe the writings of Paul are clear on this subject."
Hmmmm…..ok, good…. I think…..  Much could be said here, but this post is not about the content of what he said.  Rather, the point I am seeking to address is this Cry For Relevance.  So, I press on…..
A few thoughts:
1.  I am NOT for:
I am NOT for irrelevance.
I have NO desire to drive people away from Christianity, the church, or Jesus Christ.  I don't want to be pariah, either!
The goal is

not

to be as non – relevant as possible, offend people, or create a greater divide in our conversations.
I don't want to unhelpfully create any more road blocks in ones understanding of true Christianity than already exists.
In light of the above, it needs to be said……  I do not hate gay or lesbians!
While, I disagree with that lifestyle choice, that does not mean I hate them nor does it mean that I discriminate against them.
My concern centers on this lustful desire for relevance. A problem which, Jesus Himself, did not concern Himself. Jesus never watered down His message.
Why? Because, Truth is…. truth.
While I am at it, I might as well potentially offend some Christians:  I take issue with those who shout from the street corner to the passerby's with a pronounced arrogance and a lack of compassion and love, and do so in the name of truth. There is a reason that our culture, when speaking about Christians, say we are filled with "hate speech". (Though that phrase is often tossed around to mean: hate speech is anything someone speaks out against what I am engaged in…)
That said….
2.  I AM for:
Speaking the truth in

love

The above does not mean that the Christian should be silent!
Paul, in Ephesians 4 calls the believer to maturity when he says:
…..that we may no longer be children, tossed to and fro by the waves and carried about by every wind of doctrine, by human cunning, by craftiness in deceitful schemes. Rather, speaking the truth in love, we are to grow up in every way into him who is the head, into Christ…  Ephesians 4:14-15
Consider:
Does a person who is not living for Christ need relevance or truth?
Does one exclude the other?
Isn't truth…..well……. relevant?
Ultimately what is needed most is not my relevance, we need truth. And, that truth just so happens to be extremely relevant to the world we live in!  Where do we find truth?
The grass withers, the flowers fade, but the Word of the Lord remains forever!