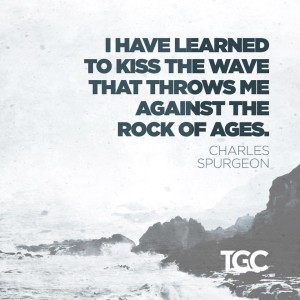 Kiss the wave?
I am fairly sure that is not the way I would think of a wave that throws me to the rocks.
Hmmmm…. Hit the wave, run from the wave, curse the wave…. I don't know, anything but kiss the wave.
I have said these things to you, that in me you may have peace. In the world you will have tribulation. But take heart; I have overcome the world."

(John 16:33 ESV)
3 things you don't want to miss from John 16:33
1.)  Expect Trouble
"In the world you WILL have tribulation or trouble."
It is true, isn't it? We live in a world of trouble. We view it on our TV's, computers, and in our personal lives on a day by day basis. The world we live in is full of trouble. Why? Well, it is a fallen world… it's a world where babies are aborted and organs are sold for profit. On the one hand, I am aghast at this world. On the other hand why am I surprised at such things? Jesus told us there would be trouble. It is a fallen world doing what a fallen world does.
Jesus never promised any of his followers an easy road. He never gave any indication that troubles would cease for His disciples this side of eternity. He never said, "Follow me and I will make your road to be without difficulty, suffering, and troubles." No, He said the exact opposite. So, why am I surprised by this latest news that arrives at my door on any day of the week? Imagine a day with me where there is not any mention of troubling news. Now that is a day that should surprise me.
But, a troubling day?…. Jesus says you can expect it.
2.)  Peace
Fortunately, that is not all He says here in John 16:33.
"I have said these things to you, THAT in ME you may have peace."
Why does Jesus tell us these things? He tells us there will be tribulation, so that we will have peace in Him.
Let me suggest that whatever and however you find peace in the midst of your troubles…. that is your god.
For example:
If a new political agenda brings you a new-found peace….
If eating or shopping or losing yourself in a movie so that you no longer have to see the news brings you peace….
It might be relationships, drugs, buying new things, fantasy, or who knows what. (We are pretty creative in finding things to offer such peace.)
But, for the believer, we are to see these are a facade. A false sense of peace. How does buying new stuff truly offer peace, especially in light of eternity?
Consider, if I don't have the political agenda I want, or the shopping, food, drugs, etc….. am I at peace? Is Jesus enough or must I have something else?
Thanks be to God that we can find ultimate peace IN CHRIST. He is our peace in the midst of all our troubles. Which brings us to my final point.
3.)  God Overcomes the Trouble 
Ultimately, peace comes from God who overcomes the trouble. This is why we can have peace in the face of trouble. This is why we can join with Spurgeon and "Kiss the wave that throws me against the rocks." The disciples understood this when:
Then they left the presence of the council, rejoicing that they were counted worthy to suffer dishonor for the name. (Acts 5:41)
Uh…WOW!
Paul to the Philippians:
For it has been granted to you that for the sake of Christ you should not only believe in him but also suffer for his sake, (Philippians 1:29)
Do you hear Paul? It is been "granted" to you. Granted? Meaning, it is a privilege or a benefit. Paul is saying we get to suffer for His sake. He is expressing the privilege of suffering for the cause of Christ.
Peter tells us:
Beloved, do not be surprised at the fiery trial when it comes upon you to test you, as though something strange were happening to you.

(1 Peter 4:12 ESV)
1. Expect the troubles
2. Peace
3. Because God has overcome the trouble.
Christ died on the cross to overcome the trouble. Yes, more trouble will be brought to us tomorrow and yet we can have peace because Christ overcomes the trouble. In light of eternity, this world is a mist. Christ died so that we can have ultimate peace with God. No longer are we enemies awaiting judgement for our sins. The Savior died! He died in my place and received the punishment my sins deserved. The repentant individual who puts his or her trust in God is forgiven! All sins are washed away in the saving grace of God. And this is peace. Man has never known and never will know a greater peace. This is the ultimate peace, God has overcome the trouble of my sins!
Stay the course Christian and keep your eyes on the One who has overcome. Rest in the peace He offers in the midst of the storm and…..
Kiss the wave.